Indianapolis, IN – An Indiana State Trooper was injured this morning when his vehicle was struck from behind on I-465. At 6:24, Master Trooper Antwaun Johnson was sitting behind a disabled vehicle on I-465 westbound near Allisonville Road in a construction area. M/Tpr. Johnson had stopped on the side of the road to assist a driver who's vehicle had a flat tire. While M/Tpr. Johnson was seated in his car, his vehicle was struck by another vehicle.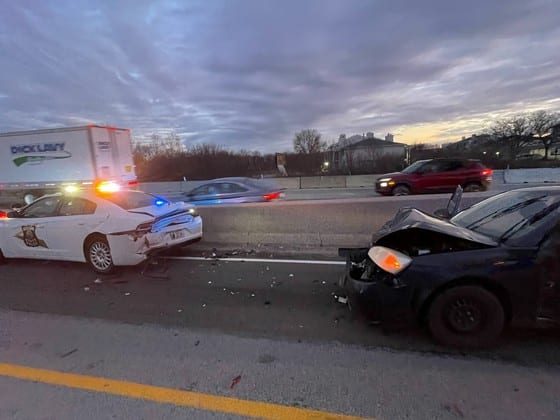 Preliminary investigation determined the state police vehicle was stopped on the right side of the highway with emergency lights activated. There was ample room for westbound traffic to pass the ISP vehicle and disabled vehicle. A 2007 Chevrolet, driven by 21 year old Andre Murphy, struck the rear end of the police car, causing the police car to strike the rear end of the original disabled vehicle. Master Trooper Johnson was transported to an area hospital with non-life threatening injuries. The driver of the disabled vehicle was also transported to the hospital with non-life threatening injuries, Murphy was not injured.
Investigators determined Andre Murphy does not have a valid drivers license, alcohol is not suspected of being a factor in this crash. The left lane of I-465 was closed for two hours while the crash was investigated and the wreckage was removed.
The information above is preliminary and the investigation is ongoing.
All crimes mentioned are alleged and all suspects are presumed innocent until proven guilty in court.