Indianapolis, IN – Just before 2:00 p.m. Tuesday, emergency crews were called to the scene of a semi tractor-trailer crash on the ramp from I-465 southbound to I-70 eastbound on the east side of Indianapolis. 911 calls were indicating the semi overturned and there was a large fire. Trooper Chris Hanson was the first on the scene and assisted three other Good Samaritans with treating the driver's injuries until medics arrived. Preliminary information is three people stopped when they saw the wreckage and helped the driver escape the flames. The driver was transported to an area hospital in critical condition.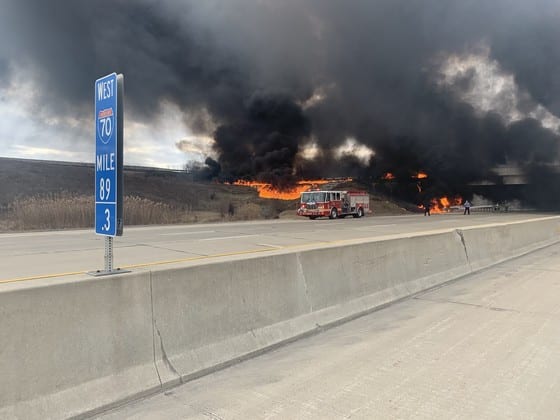 Preliminary investigation revealed the semi tractor-trailer was exiting from I-465 onto I-70 when it overturned on the curve of the ramp. Investigators believe unsafe speed contributed to the roll-over. The driver was identified as 59 year old Jeffrey Denman of Brownsburg Indiana.
I-70 eastbound and westbound was closed in the area for approximately two hours while the fire was extinguished and the scene rendered safe, it is now open. I-465 southbound ramp to I-70 eastbound will remain closed for several hours while the wreckage is removed.
The state police were assisted in this investigation by the Indianapolis Metropolitan Police Department, the Indianapolis Fire Department, Indiana Department of Transportation, the Marion County Health Department, Zores Wrecker Service, and Indianapolis EMS