Brownsburg Athletics celebrated Spring Signing Day May 20 as 22 Brownsburg seniors signed to continue their athletic and academic careers at the collegiate level.
Basketball player Eddie Ambrose signed to play for Lincoln Christian College in Lincoln, IL.
Marcos Barbosa will head to nearby Marian University after the completion of the 2021 Track and Field season. He is a two-time IHSAA State Finals qualifier in the High Jump and has been awarded a pair of varsity letters in his Brownsburg career. Barbosa, who is coming off a High Jump championship at the 2021 Hoosier Crossroads Conference Boys' Track and Field Championship, was also an All-HCC selection and Regional Qualifier in the 110 meter hurdles as a sophomore.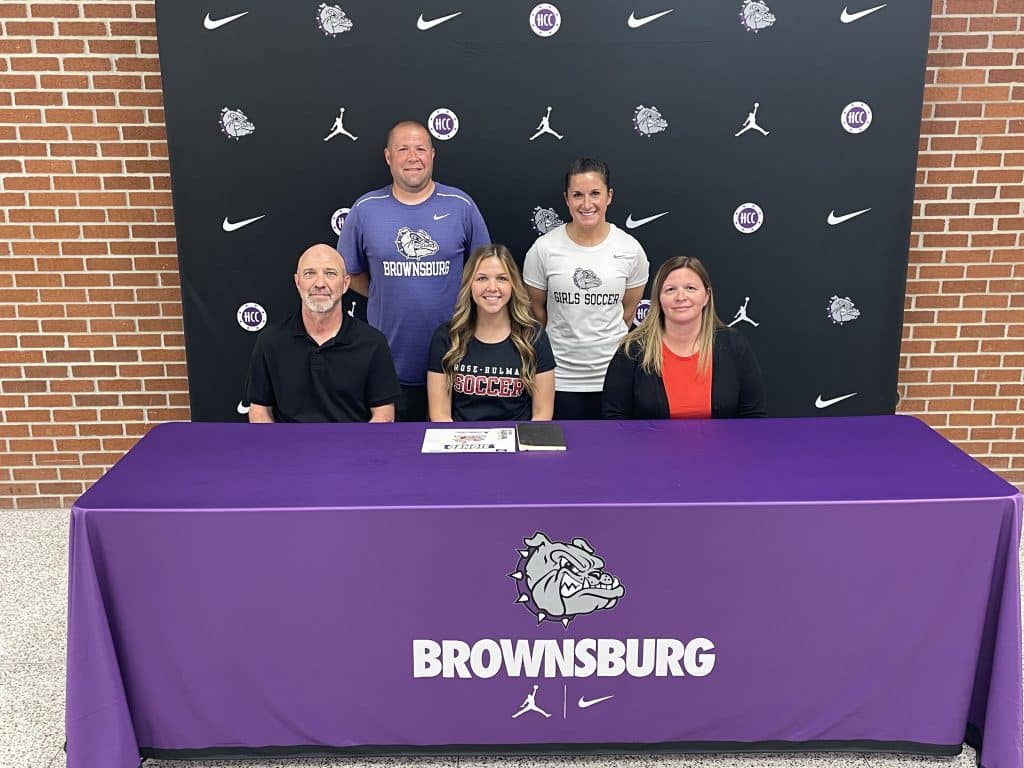 ICGSA All-State Selection Jayden Gibson signed to play for the Rose Hulman Institute of Technology in Terre Haute, IN. She was a four-year member of the Brownsburg Girls' soccer team and a key piece in the program's 2020 IHSAA Sectional championship. Gibson, an All-District, All-County and All-HCC selection, appeared in every match over her final two seasons with the program. She also was honored with four Academic All-State selections in her career.
Four-year letter winner Roshan Gurung will continue his soccer career for the Cougars at the University of Saint Francis in Fort Wayne, Indiana.
Maria Gutzweiler signed to swim for Carthage College in Kenosha, WI. She was a part of Brownsburg's 2021 IHSAA Sectional championship winning and State Finals qualifying 200 Medley and 200 Free Relay teams.
Three-time letter winner Max Harris will continue his soccer career for Trine University in Angola, IN. As a senior, Harris was third on the team in goals scored and appeared in every match for the Brownsburg boys' soccer program. Harris, a two-time Academic All-State selection, also competed for the Brownsburg Boys' Track and Field team. He was an HCC champion in the 4×100 meter relay and an All-HCC selection in the 100 and 200 meter dash.
Swimmer Ella Hart penned her letter of intent to compete for Rose Hulman. Hart was honored with three letters during her career and helped the program extend its IHSAA Sectional championship streak to eight consecutive years.
Soccer player Nathaniel Heyen will continue his career for Illinois Wesleyan after appearing in ten matches for Head Coach Josh Brown as a senior.
Brianna Howard will play softball for Manchester following the end of the 2021 Brownsburg Softball season. She was a two-time letter winner and received Academic honors during her career.
Football OLB Cameron Keys signed to play for Marian University. Keys was a four-year member of the Brownsburg football team, where he received All-HCC honors for the Brownsburg defense. He recorded 79 total tackles over three years.
Jacob Kodrick will run for Lewis University in Romeoville, Illinois. Kodrick was an integral part of the 2019 Brownsburg Boys' Cross Country team that clinched an IHSAA State Finals podium finish for the first time in school history. As a senior in 2020, Kodrick qualified for the IHSAA State Finals.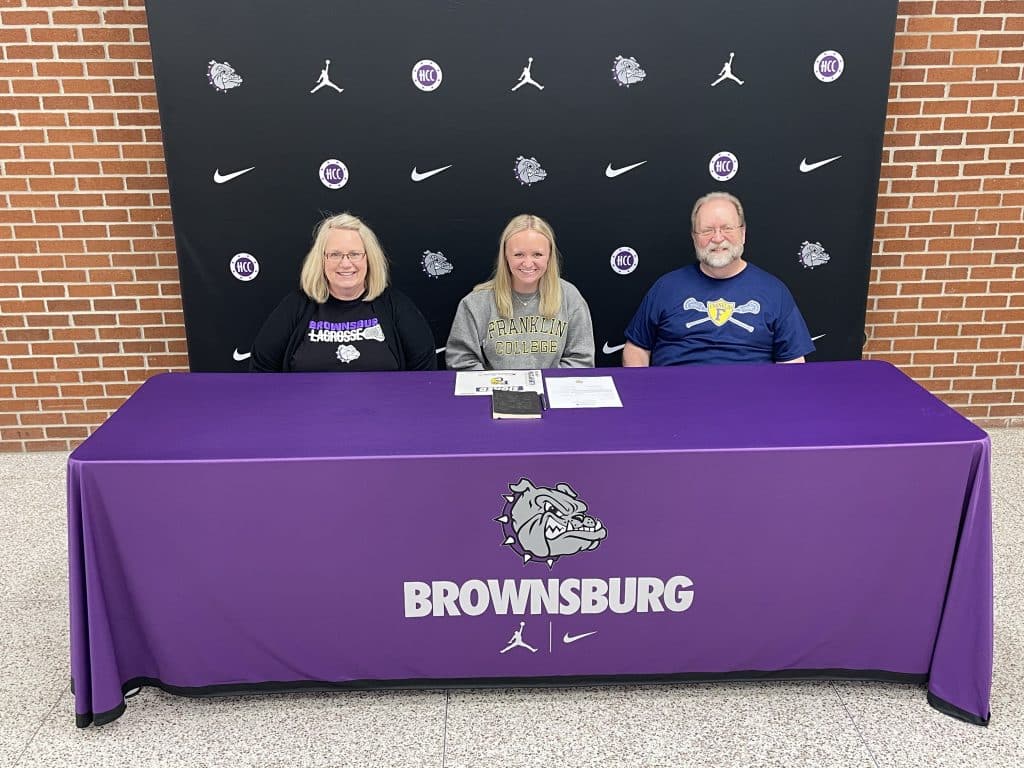 Lacrosse All-Sectional selection Delaney McCafferty chose to continue her career for Franklin College. She was also an Academic All-State selection in her Brownsburg career.
Mikayla Mills signed to play softball for Saint Mary's of the Woods College in Terre Haute, IN. She also spent time as the captain of the Brownsburg Girls' Rugby club, where Mills helped the team to a 2019 Indiana Girls Rugby Division 2 State Challenge Cup Championship.
2021 IHSAA Wrestling State champion Kysen Montgomery signed to continue his career for Bellarmine University in Louisville, KY. Montgomery, who was a four-time IHSAA State Finals placer, posted a 114-25 record during his career under Indiana Wrestling Hall of Famer Darrick Snyder. He was also a three-time Hoosier Crossroads Conference champion and Academic All-State selection as a Bulldog.
Cate Murphy signed to play for Indiana University Southeast after she helped Brownsburg Volleyball snap a 30-year drought of IHSAA Sectional championships in the fall of 2020. Murphy surpassed 1,000 career assists during her senior year under head coach Katie Maples.
Three-sport athlete Trevor Nolan signed to run for Xavier University. Nolan earned varsity letters for the Brownsburg Boys' cross-country, Boys' basketball and Boys' Track and Field teams during his four-year career. He was an IHSAA Cross Country State Finals qualifier in the fall of 2020, finishing in the top-ten and earning an Indiana All Star selection. Nolan received a pair of All-HCC honors in cross country and one in track and field during his career.
Marisa Petrunich signed to play tennis for Ohio Northern University in Ada, Ohio. She has been a consistent piece in the Brownsburg Girls' tennis lineup this spring.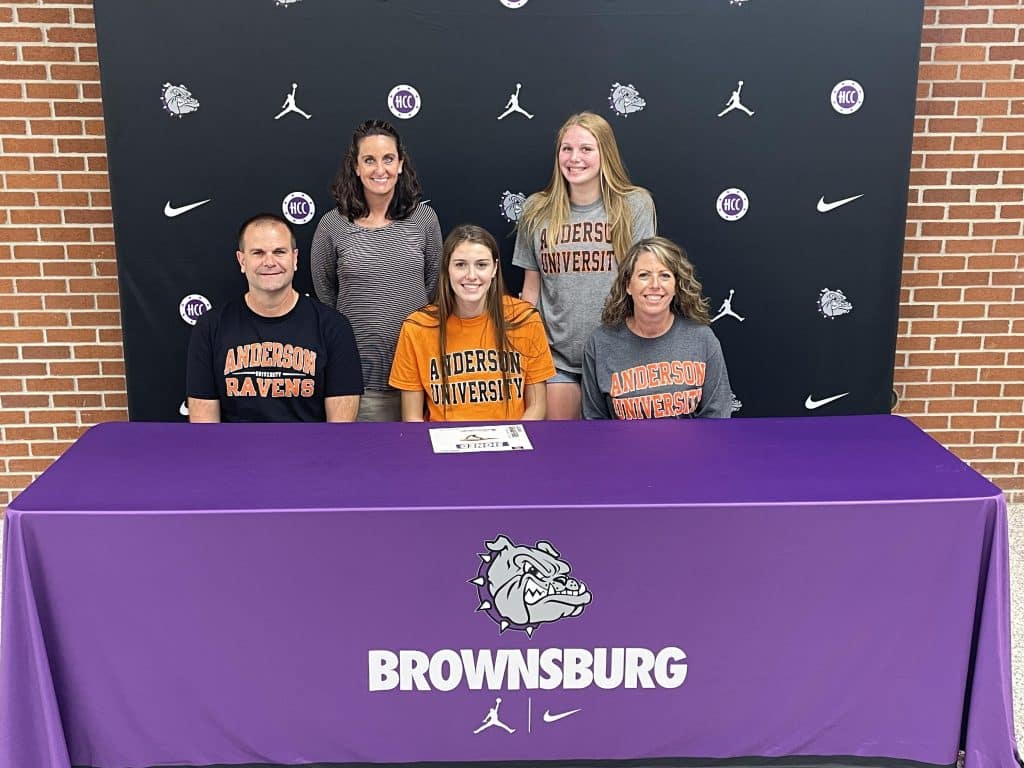 Allison Shaffer will continue her basketball career for Anderson University after helping lead the Brownsburg Girls' basketball team to history in 2021. The Bulldogs advanced to the IHSAA State Finals for the first time since 1991 and finished as the IHSAA State runner-up.
Two-time letter honoree Dominic Skinner chose to play baseball for Trine University. Skinner has played in 18 games this year for Brownsburg baseball, appearing in the mound and on the field for Head Coach Dan Roman.
Morgan Syoen will continue her volleyball career for Grace College in Winona Lake, IN. She earned four varsity letters and was a cog in the 2020 IHSAA Sectional championship for Brownsburg volleyball.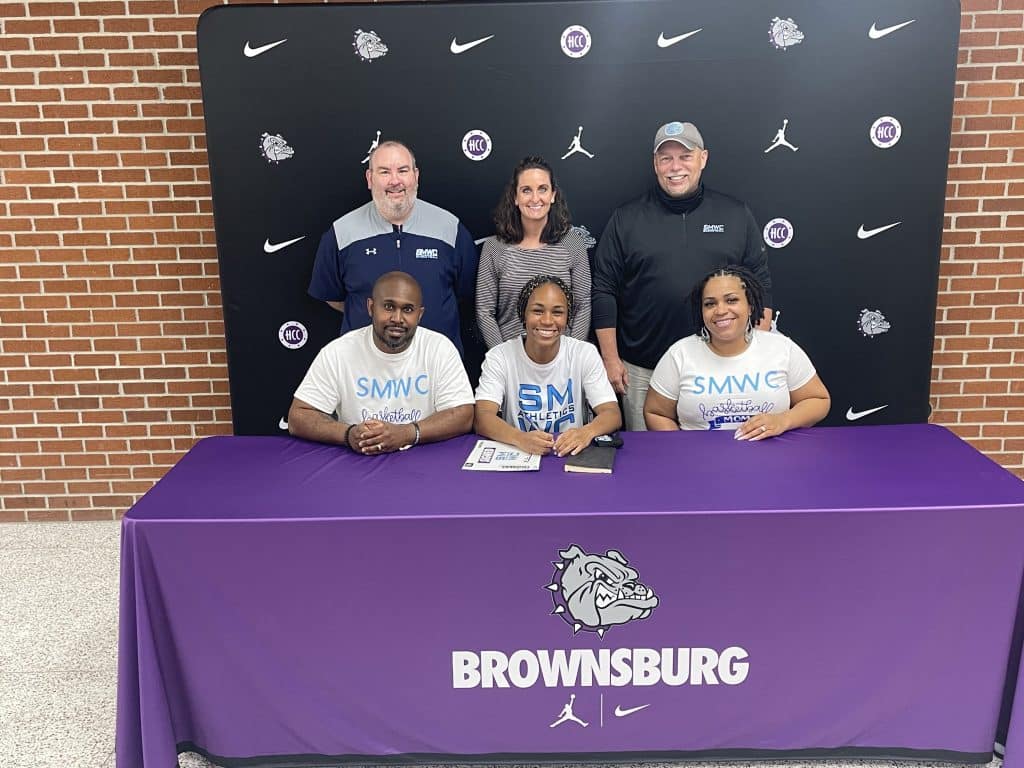 Two-sport athlete Destiny Thomas signed to play basketball for Saint Mary's of the Woods College. She earned three letters over her career and was a 2021 All-HCC Honorable Mention selection in basketball.
Chris Williamson chose to continue his track and field career for Grace College. Williamson spent time on the Brownsburg Football and Track and Field teams during his career. He holds the Freshman School records in the 4×100 and 4×400 meter relay.