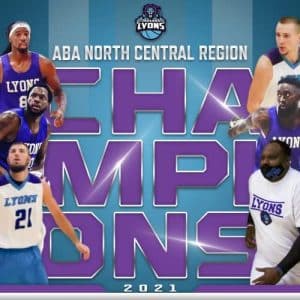 DANVILLE, IN – The Indiana Lyons won their first and second American Basketball Association (ABA) playoff games in franchise history over the weekend and emerged as the ABA North Central Region Champions. The Lyons advance to the league's Final Eight tournament in St. Louis in mid-April.
After finishing with a 14-4 record in the regular season and a #12 ranking in the ABA out of more than 75 teams, the Lyons earned a first-round bye in the regional tournament and faced the #22-ranked Ohio Bruins out of Columbus, Ohio on Saturday in Noblesville.
Trailing for most of the game, the Lyons mounted a furious comeback in the final two minutes of regulation, forced overtime, and then won 107-102 in the extra period.
The victory was the first postseason triumph for the Lyons in franchise history. The team has qualified for the ABA playoffs in all three years of its existence but lost its first playoff game after the 2018-19 season. The 2019-20 ABA playoffs were cancelled due to the COVID-19 pandemic.
In the championship game, the Lyons battled the Midwest Guardians out of Westfield, Indiana who were ranked #14 in the ABA. The two teams split their regular season matchups and developed a spirited rivalry along the way.
In a back-and-forth title game, the Lyons finally took control late in the fourth quarter, fended off a late surge by the Guardians, and won the regional championship, 121-114.
ABA All-Star Nominee Gerald Campbell led the Lyons with 45 points, 9 rebounds, and 5 assists in the game, while Brownsburg High School graduate and ABA All-Star Nominee Kendric Lee poured in 19 points, 10 assists, 5 rebounds, and two steals. Danville Community High School graduate Dillon Ware added 11 points, 7 rebounds, and two assists.
"We focused on perseverance this weekend," said Lyons head coach Tyrone Brown of Avon, who also owns the team along with his wife, Deborah. "We faced all sorts of adversity this season and this weekend, and we persevered."
As one of only eight teams remaining in the ABA playoffs, the Lyons will head to St. Louis for the Final Eight tournament April 15-18.
The team will host a community celebration of their regional championship on Saturday at 4 p.m. at Danville Town Hall, with more details to be posted later this week on IndianaLyons.com and on the team's Facebook page.