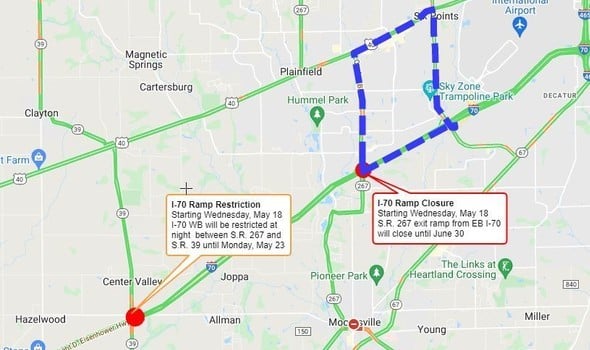 HENDRICKS COUNTY, Ind. – The Indiana Department of Transportation announces the State Road 267 exit ramp from eastbound I-70 near Plainfield will close on Wednesday, May 18 in order for crews to construct a new ramp. The official detour follows I-70 eastbound to Ronald Reagan Parkway to U.S. 40 to S.R. 267 (Quaker Blvd.). The closure is expected to last until June 30.
Also on Wednesday, May 18, there will be a nightly lane restriction on I-70 westbound near Plainfield from 7 p.m. to 6 a.m. to allow crews to safely patch the concrete bridge from S.R. 267 to S.R. 39. This restriction will be in place until Monday, May 23. Indiana State Police will be onsite for traffic control in the area.
This project was awarded to Milestone Contractors, L.P. for $44.4 million. The project rebuilt the eastbound and westbound lanes of I-70 from one half of one mile west of S.R. 267 to Ronald Reagan Parkway and patched the interstate from just west of S.R. 267 to S.R. 39. The project is scheduled for completion in early summer of 2022.
Stay Informed
Motorists in West Central Indiana can monitor road closures, road conditions, and traffic alerts any time via: