By Rodney Richey – May 16, 2023
Brownsburg – The time has come to say goodbye to someone who has become a valued member of the WYRZ 98.9FM staff, if only for a little while.
Addison Jackson, our current intern, is graduating from Avon High School in June.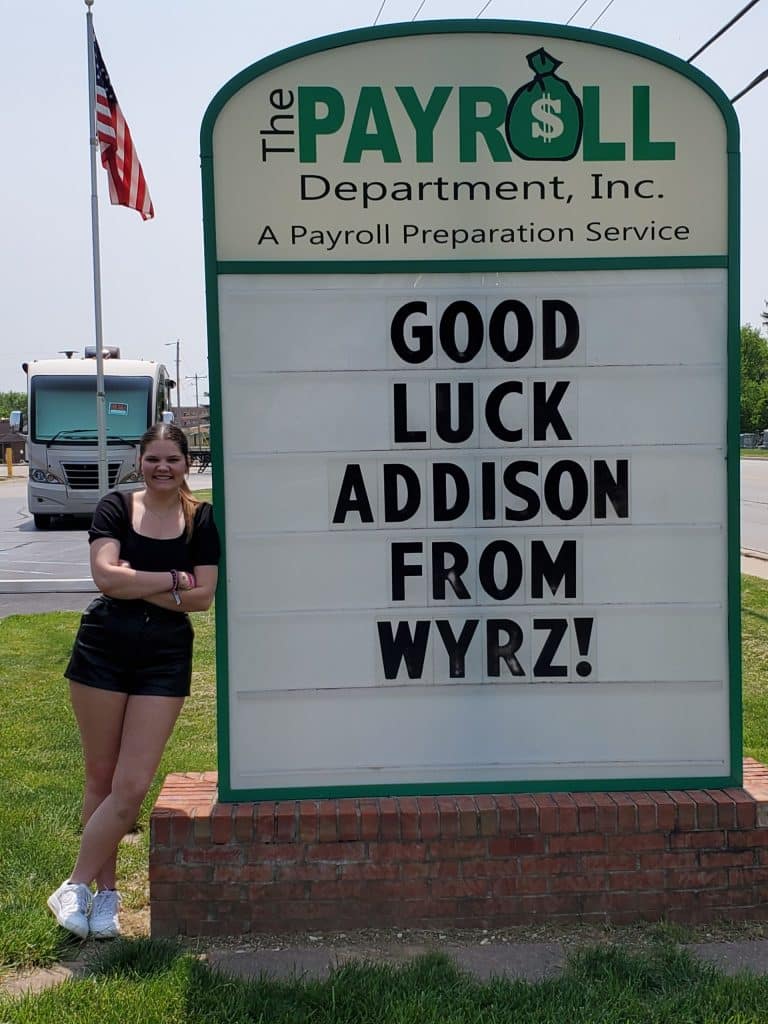 Addison's family includes her parents, Jaymie and Mike Jackson, twin sister Delaney, and an older brother, Max.
She says her work in school has been in television and media, so she was intrigued to learn about radio.
"It's been a lot of fun," she said. "It's something I don't get to do at school.
"Everyone I have met [at WYRZ] has been super welcoming, and I think that just makes me love being here even more."
One surprising thing about radio, the Hendricks County native admitted, was the ability of so few people to run a station.
"It's always sounded like there's a lot of people on the staff. Mostly you're there by yourself at the controls. That was quite a surprise, that one person does so much."
The 17-year-old senior has always been a country music fan, having grown up a fan of Dolly Parton, Blake Shelton, and Loretta Lynn. One of her favorite songs is Parton's "Two Doors Down."
"It's just such an upbeat song. I know I can turn it on, and it will put me in a good mood."
Addison, who will study Emerging Media at Belmont University in Nashville this fall, will miss her Hendricks County home.
"I love how our county is constantly growing now. There's always something new to try and do.
"However," she admits, "I do miss when [U.S.] 36 didn't seem like an interstate."
The senior said her dream job would be to work at the Country Music Awards.
In recent years, WYRZ has had high school interns from Brownsburg and Boone County as well as local colleges. WYRZ station manager Shane Ray said "Addison was the first student from Avon High School to intern at WYRZ. She will be great in whatever career path she chooses and we will miss her."