Indianapolis, IN – September 26, 2023 at approximately 4:40 p.m., police officers from the Indiana State Police and the Indianapolis Metropolitan Police Department were conducting an investigation near East 40th Street and North Keystone Avenue. Officers were looking for 42 year old Darmon Graves Jr. of Indianapolis, who was wanted on an outstanding felony warrant for a parole violation related to a serious violent felony. Graves was observed by officers in the passenger seat of a silver car on East 40th Street eastbound at North Keystone Avenue. Officers pulled into position to conduct a high-risk traffic stop. Officers exited their vehicles and stood behind two police vehicles while attempting to communicate with the two occupants of the silver car. The female driver complied with officers' orders to exit the vehicle, Graves remained inside the vehicle. Moments after the female exited with her hands in the air and walked away from the vehicle, Graves exited the passenger side of the car with a handgun in his hand. The handgun was raised and pointed in the direction of the officers. Three police officers, two from IMPD and one from ISP, discharged their weapons. Graves fell to the ground and was unresponsive to further orders from officers. Officers moved into position to check the status of the male suspect and rendered emergency aid. The suspect was later pronounced deceased at the scene.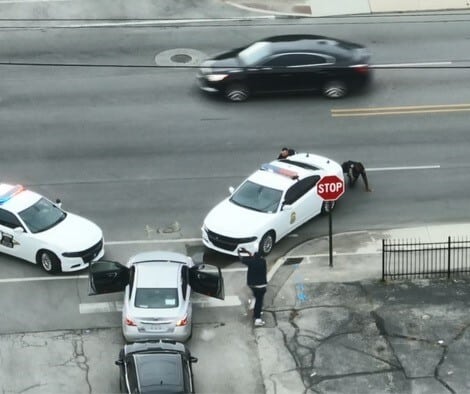 This operation was captured on several police officer body worn cameras, dash cameras and a police drone that was deployed prior to the traffic stop.
Investigators from both the Indiana State Police and the Indianapolis Metropolitan Police Department responded to the scene. It was determined ISP would lead the investigation with the assistance of IMPD. ISP Crime Scene Investigators responded to the scene to document and process evidence.
No uninvolved citizens or officers were injured during this incident.
The police officer support team (POST) and the IMPD Chaplain's Office responded to the scene to assist and provide peer support for officers. Each involved agency is following their respective policy and procedures following an officer involved shooting.
The Marion County Prosecutor's Office (MCPO) responded to the scene to assist in the investigation.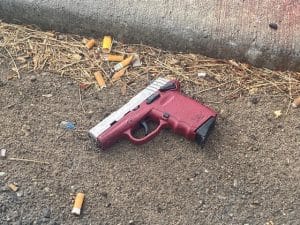 This case was brought as part of the Indiana Crime Guns Task Force (ICGTF). ICGTF is a partnership of law enforcement officers and analysts from several central Indiana law enforcement agencies in Boone, Hamilton, Hancock, Hendricks, Marion, Morgan, Johnson, and Shelby counties. In cooperation with state, local, and federal partners, ICGTF collaborates to address violent crime through a comprehensive strategy including innovative approaches to locating suspects and evidence related to violent crimes and illegal possession of firearms.
The female driver was detained by officers but was released after she was interviewed by investigators.