[Indianapolis, IN. – November 15, 2021] – Indiana Kroger stores support The Kroger Co. Zero Hunger | Zero Waste Foundation in a new campaign to fight hunger. End Hunger Here offers familiar opportunities for customer donations, and adds a distinctive new element – the virtual food box.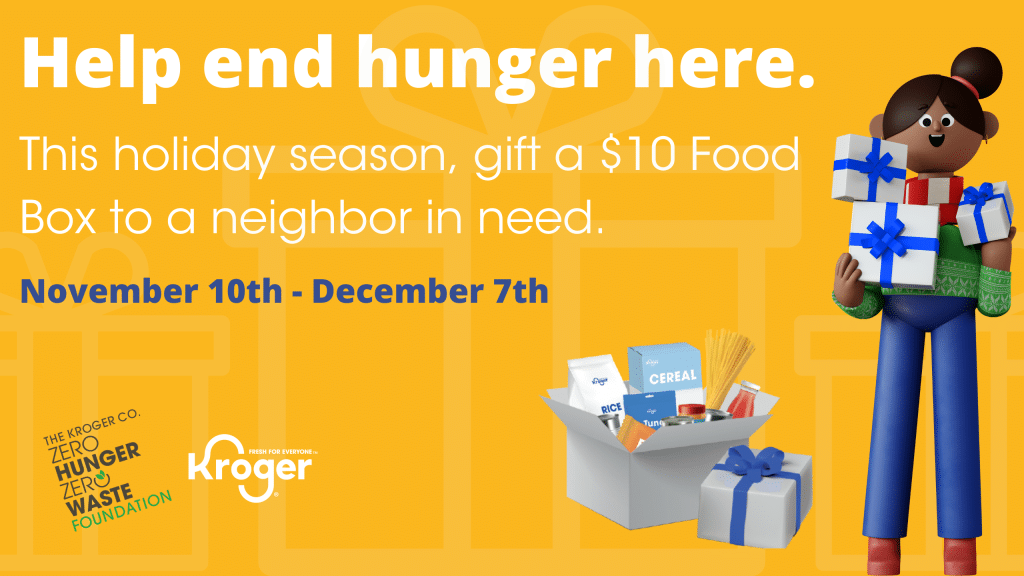 Donation options at checkout are as simple as rounding up to the next dollar. A gift of $10.00 creates the virtual food box, a selection of non-perishable foods essential to all food banks. After the drive, the Zero Hunger | Zero Waste Foundation will convert the donations into cases of food which will be delivered to local hunger relief organizations this winter.
"Kroger is proud to partner with local hunger relief organizations in our four-state region. We share their commitment to feed our neighbors in all of the communities we serve," said Colleen Juergensen, Kroger Central Division president. "Throughout the year, we appreciate the giving spirit of Kroger shoppers and the compassion of our associates. Now, inspired by the generosity of the holiday season, the virtual food box provides a new and easy way to help struggling families put food on the table."
As part of today's kickoff celebration, Kroger presented a grant for $50,000 to Gleaners Food Bank president and CEO John Elliott. "The pre-pandemic meal gap for our Hoosier neighbors was daunting and the increase in need caused by the pandemic simply increased the challenge. With a food supply chain more disrupted than any time in the last 75 years and food prices rising significantly, food distribution channels and partner organizations cut off and volunteer labor stopped, Gleaners and others in the hunger relief system have needed friends like The Kroger Co. more than ever before," Elliott said. "Since Barney Kroger began a tradition of feeding hungry neighbors 138 years ago, our friends from Kroger have been the longest-serving corporate partner to hunger relief organizations in this country, even helping build and support the national food bank network over the last 50 years. This virtual food drive is simply the latest creative and impactful initiative by Kroger to feed our neighbors in times of urgent need and we are deeply grateful."
The End Hunger Here campaign continues through December 7th.
For more information, visit your neighborhood Kroger.