(Plainfield, IN) It's no secret that Hendricks County is growing, and Plainfield is taking this opportunity to enhance their community through many different renovation and redevelopment projects. 
On US 40, Plainfield is improving their downtown district through new development. With the most exciting piece, the Plainfield Civic Center, set to be completed Spring 2024. This multi-use facility will include the Plainfield Government Center, Plainfield Civic Center, Parking Structure, and Hendricks Live! the operator of the new Performing & Fine Arts Center, a 600-seat auditorium. 
Since June of this year, the renovation of Franklin Park has been underway and is expected to be completed by this December. The new Franklin Park will feature:
Crosswalk and sidewalk intersection improvements
Enhanced playground equipment
Dog park with shade structures
Resurfaced tennis court
Anderson Baseball Diamond enhancements and updates
Full Court Basketball with side goals
8 Pickle Ball Courts with shade structures
Path improvements to Pinnacle Lane
Redevelopment of Franklin Park Trail Loop
Enhanced updates on park restrooms and shelter houses
Community Greenspace
Additional parking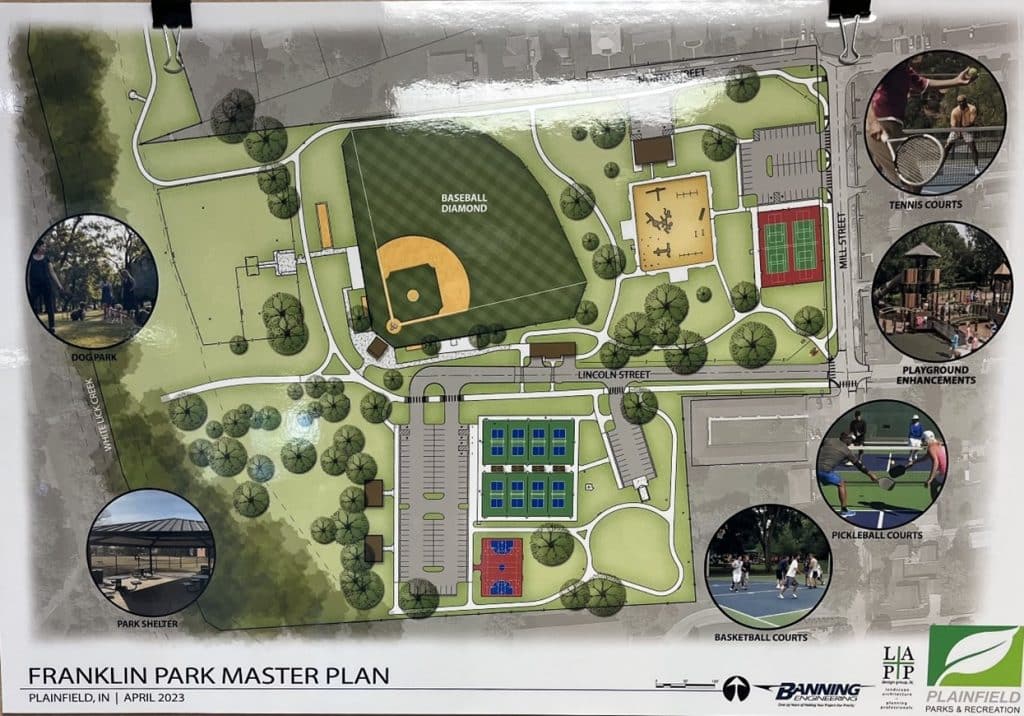 Plans for the enhancement of Franklin Park began in 2021, where the Town of Plainfield hosted multiple public input sessions where Plainfield residents were able to provide their input about the redevelopment and these ideas were then considered when the Parks and Recreation Department created the Franklin Park Master Plan. On May 22, 2023, the Plainfield Town Council approved contract with Patterson Horth for the Franklin Park Improvements Project.
This week, the Plainfield Town Council approved a $8,364,500.00 contract with Patterson Horth Inc. to expand Splash Island Outdoor Waterpark. The expansion includes three new waterslides, a splash pad, tiki hut cabana rentals and an updated pool maintenance building.
"As we gear up to celebrate the 20-year anniversary of Splash Island at the Richard A. Carlucci Recreation and Aquatic Center, we're excited to bring these new amenities online," said Robin Brandgard, Town of Plainfield Town Council President. "The Plainfield Parks & Recreation Department has established themselves as a department that creates memories for our residents and visitors, and we believe these additions will continue providing lasting memories for everyone."
"The Plainfield Parks & Recreation Department is thrilled the Town Council approved this project," said Director of Parks & Recreation, Brent Bangel. "These updates will give Splash Island a new face, making it bigger and better for our residents and visitors."
Construction of the Splash Island expansion is set to start after their outdoor season in September of 2023, with expectations it will be completed for the 2024 Summer Season on Memorial Day weekend.
For more information about these projects visit townofplainfield.com or follow Town of Plainfield and Plainfield Parks and Recreation on Social Media.