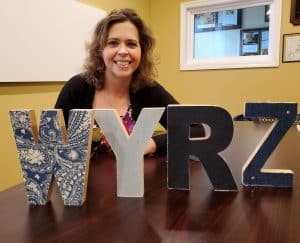 Amie Scott joins us on Saturdays from 8:00 a.m. – Noon to play Solid Gold on WYRZ.
If you've noticed she can seem a little subdued on air, blame it on her full-time gig as a librarian—that's right, she's a wrangler of books and information.
A Hoosier native, Amie grew up a couple of counties north (go Bulldogs!) and moved to Hendricks County in 2003. She has a super-smart daughter that attends IUPUI and is married to the man of her dreams (who also happens to be a very talented drummer). In her spare time, Amie enjoys spending time with family and friends, traveling, and volunteering.
Musically speaking she's all over the board from country to jazz to pop to classical — a mixed bag — but loves sharing music on 98.9 FM and WYRZ.org.